Check out the GC3F's newest instrument 
available for use by the UO research community!
* GE AMERSHAM TYPHOON IMAGER *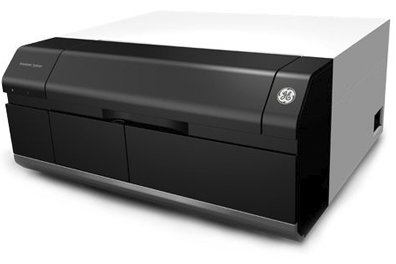 The GC3F has recently purchsed a GE Amersham Typhoon imager for gels, blots, microscope slides, microtiter plates, tissue specimens, and more! This new laser scanner is designed for versatile imaging and precise quantitation of fluorescent, colorimetric, and radiolabeled proteins and nucleic acids. 
Our new imager boasts the following features:
Can perform 4 types of imaging

RGB & IR fluorescence
Luminescence
Phosphor (RI) imaging
Densitometry (OD)

Illuminates with scanning lasers & detects light with photomultiplier tube (PMT)

Equipped with 488nm, 532nm, 635nm, 685nm, and 785 nm lasers
Emitted light is detected & amplified with a PMT, providing superior signal sensitivity

Can accomodate very large samples, up to 40 cm x 46 cm in size! This large scanning surface also means that multiple gels/plates/etc. can be imaged & analyzed simultaneously.
Provides max image resolution of 10 µm
Stop by the GC3F and try it out!!
__________________________________________________________
The Genomics and Cell Characterization Core Facility (GC3F) supports scientific research at the University of Oregon by making a broad array of high end specialized instrumentation accessible to UO researchers for genomics & flow cytometry applications. We also offer in-house sequencing sample prep services, for both internal and external users.  
Please click the tabs above to learn about the services provided by the GC3F!