The GC3F houses numerous instruments for DNA, RNA, and protein quantification.
All the quantification instruments listed on this page are free to use by the UO community - just bring your own reagents and consumables!
Quantification instruments that require sign-up to reserve your time slot in advance in iLab:

ABI StepOne Plus
ABI QuantStudio 3
BioRad CFX96
Molecular Devices Microplate Reader
Quantification instruments that do NOT require reservations:

Nanodrop
Qubit
Licor Odyssey Fc
GE Amersham Typhoon
_________________________________________
*NEW!* GE Amersham Typhoon Imager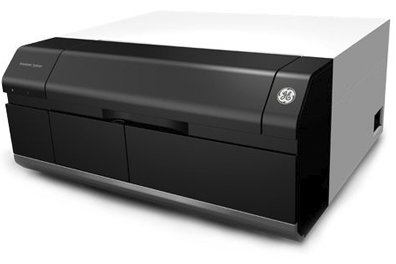 The GC3F has recently purchsed a GE Amersham Typhoon imager for gels, blots, microscope slides, microtiter plates, tissue specimens, and more! This new laser scanner is designed for versatile imaging and precise quantitation of fluorescent, colorimetric, and radiolabeled proteins and nucleic acids. 
Our new imager boasts the following features:
Can perform 4 types of imaging

RGB & IR fluorescence
Luminescence
Phosphor (RI) imaging
Densitometry (OD)

Illuminates with scanning lasers & detects light with photomultiplier tube (PMT)

Equipped with 488nm, 532nm, 635nm, 685nm, and 785 nm lasers
Emitted light is detected & amplified with a PMT, providing superior signal sensitivity

Can accomodate very large samples, up to 40 cm x 46 cm in size! This large scanning surface also means that multiple gels/plates/etc. can be imaged & analyzed simultaneously.
Provides max image resolution of 10 µm
Stop by the GC3F and try it out!!
_____________________________________________________________
ABI QuantStudio 3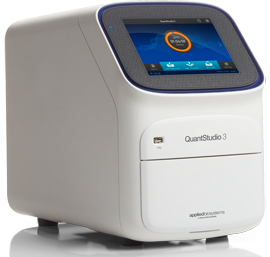 The GC3F recently purchased an Applied Biosytems QuantStudio 3 real-time qPCR instrument to provide the UO community with modern qPCR functionality including easy touchscreen, web-based data management, pre-programmed assays, and more.
Additional features:
VeriFlex technology offers 3 independent temperature zones for PCR optimization, and fast thermal cycling enables you to get results in as little as 30 minutes.
OptiFlex technology with white LED and 4 coupled channels enables optimal well-to-well and instrument-to-instrument accuracy.
CLICK HERE to schedule a reservation on ABI QuantStudio 3! (Note, you will need to register for an iLab account.)
_________________________________________
ABI StepOne Plus
The GC3F manages an Applied Biosytems StepOne Plus real-time qPCR instrument.
Utilizing robust LED based 4-color optical recording, the StepOne Plus is designed to deliver precise, quantitative Real-Time PCR results for a variety of genomic research applications.
Please note that due to high popularity, there is a time limit of max 4 hours per researcher per day on the ABI StepOne Plus instrument. 
NOTE TO USERS: If upon attempting to launch a new experiment you get a warning that there are uncollected results on the instrument, they belong to the previous user and will be overwritten unless you save them first!
Please do one of the following before proceeding with your run:
Save the previous results to a flash drive, OR
Download the previous results to a networked computer
Then, contact the GC3F and/or the previous user to let us know. 
NOTE TO USERS: The new IP address for the Applied Biosystems StepOne Plus instrument is 128.223.131.15 (as of 10/29/18)
CLICK HERE to schedule a reservation on ABI StepOne Plus! (Note, you will need to register for an iLab account.)
_____________________________________________________________
BioRad CFX96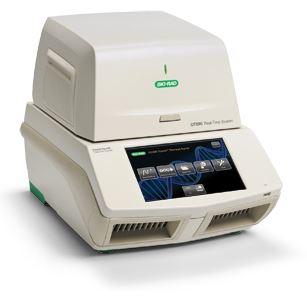 The GC3F manages a BioRad CFX96 real-time PCR instrument. 
This six-channel (five colors and one FRET channel) real-time PCR instrument combines advanced optical technology with precise temperature control to deliver sensitive, reliable detection for singlexplex or multiplex reactions.
This instrument also comes with High Resolution Melt (HRM) curve analysis software!
NOTE TO USERS: This instrument is designated for use by members of META from 8am-12pm, Monday through Friday.  It is open for booking by any user after 12pm during the week, and any time outside business hours.
 If you're not from META and would like to use this instrument in the morning during the week, you are welcome to book a morning time slot as long as no one from META has already booked it by that morning.
CLICK HERE to schedule a reservation on BioRad CFX96! (Note, you will need to register for an iLab account.)
_____________________________________________________________
Licor Odyssey Fc Imaging System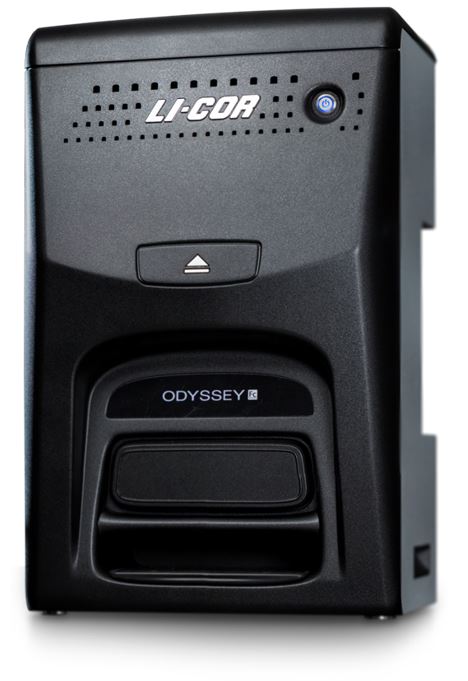 The Licor Odyssey Fc analyzes both chemiluminescence and near-infrared fluorescence such as Western blots, agarose gels, SDS-PAGE gels, Coomassie protein gels, RNAi analysis, and other assays. It uses 2-channel near-infrared fluorescence (green & red signals), which allows 2 proteins to be detected in the same sample lane without stripping and re-probing. Direct detection of near-infrared fluorescence signals is performed using secondary antibodies labeled with IRDye NIR fluorescent dyes, or other commercially available dyes such as SYBR Safe, SYBR Green I, SYTO 60, and other popular DNA stains. 
The Licor exhibits 6 logs of linear dynamic range, meaning both strong and faint bands can be accurately documented in just 1 scan without image saturation. Digital imaging eliminates the need for processor chemicals, developer maintenance, and x-ray film!
_____________________________________________________________
Molecular Devices SpectraMax M5E Microplate Reader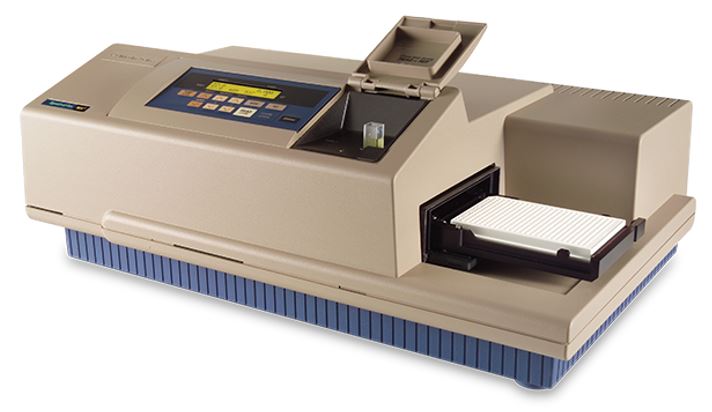 The M5e Multi-Mode Microplate Reader measures UV and visible absorbance, fluorescence intensity measurements, glow luminescence, time-resolved fluorescence, fluorescence polarization, and HTRF. It accepts cuvettes and 6-, 12-, 24-, 48-, 96-, and 384-well microplates. Other standard features include spectral scanning across the wavelength range in 1 nm increments, up to six absorbance wavelengths per read, and up to four wavelength pairs for other read modes.
CLICK HERE to schedule a reservation on the SpectraMax! (Note, you will need to register for an iLab account.)
_____________________________________________________________
Qubit 3.0 Fluorometer
The Qubit 3.0 Fluorometer is a popular benchtop fluorometer (with a fancy touch screen!) that measures the concentration of DNA, RNA, and proteins via reporting by a fluorescent dye that emits a signal only when bound to the target, which minimizes the effects of contaminants on the result. 
_____________________________________________________________
Nanodrop Spectrophotometers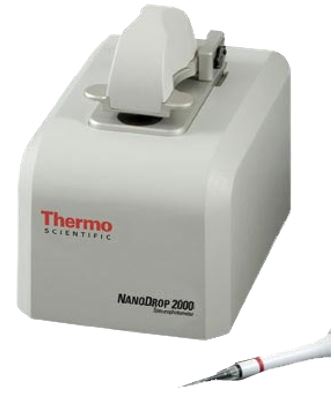 The GC3F houses two Nanodrop instruments (the 1000 and the 2000) for quantification of proteins and nucleic acids. Thermo Scientific's patented sample retention system allows for the analysis of 1-2 µl samples, without the need for cuvettes, capillaries, or loading dyes.