The GC3F houses a variety of instruments to assist you during the sample prep process. The applications we can support with these instruments include:
Some of these instruments are user-operated (and may require reserving your timeslot in advance), whereas others are operated only by GC3F staff. Please contact us with any inquiries!
CLICK HERE to schedule a reservation! (Note, you will need to register for an iLab account.)
__________________________________________________________
The 10X Chromium is a compact (toaster-sized!) microfluidics platform used to partition suspensions of single cells or high molecular weight DNA into emulsion droplets containing gel beads (GEMs) with molecular barcoding oligos. The Chromium can be loaded with up to 8 samples that are processed simultaneously in parallel channels on a microfluidics chip. 
This instrument allows us to generate two types of libraries, both of which can be run on Illumina sequencers:
mRNA-seq libraries with a single-cell (and single-molecule!) resolution, with up to 10,000 cells processed per sample
Whole genome linked-read libraries for assembling superior quality de novo genomes, analyzing long range structural variants, and determining haplotype phasing
__________________________________________________________
Diagenode Megaruptor 2:
DNA fragmententation for long-length target size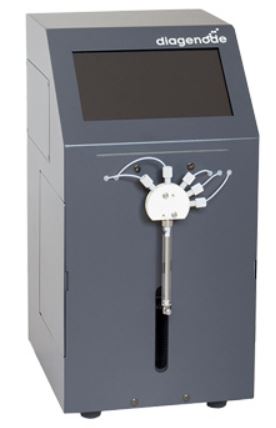 It can often be a challenge to reproducibly fragment high molecular weight DNA into multi-kilobase pieces that are still long enough for long-read sequencing applications such as PacBio  and 10X Whole Genome. The GC3F houses a Diagenode Megaruptor 2 for just this purpose! The very user-friendly interface simply asks you to select a target fragment size between 3 kb - 75 kb for up to 2 independently-processed samples, and the instrument does the rest. Shearing performance is independent of the source, concentration, temperature, or salt content of a DNA sample. 
If you're trying to target long fragments for your sequencing preps, we encourage you to try it out!
_____________________________________________________________
The Sage Science BluePippin enables automated size selection of nucleic acid fragments anywhere between 50 and 50,000 bp in size. It can also be run under "high pass" selection to retain fragments only above a given threshold which can be set anywhere between 4,000 bp and 50,000 bp.  This is made possible by pulsed-field electrophoresis using gel casettes that are specific for the desired purified fragment size (0.75% through 3% agarose).
Size selection on the Pippin is easier, safer, and more reproducible than traditional agarose gel extraction protocols involving a UV illuminator and a razor blade.  Accurate knowledge of NGS library insert size is essential for many bioinformatic analysis pipelines.  For this reason, careful fragment size selection on the Blue Pippin during sample preparation can pay huge dividends during downstream data analysis.
This instrument is also critical for the selection of high molecular weight DNA for 10X Whole Genome and PacBio long-read sequencing applications.
If you'd like to run your own cassettes (which can select up to 5 samples in parallel, or 4 samples for high pass runs), you can purchase a cassette from us at a cost of $45 each. 
If you'd like us to Pippin your samples for you (plus perform quantification and fragment analysis), the cost is $75 per sample.
CLICK HERE to schedule a reservation on BluePippin! (Note, you will need to register for an iLab account.)
Fragment Analyzer traces of 5 different Blue Pippin size selected Illumina libraries. Fragments between 275 and 525 bp were targeted in each library.   >>>
_____________________________________________________________
Sage Science Pippin Pulse:
Pulsed field electrophoresis power supply for slab gels

The Pippin Pulse is essentially the same power-supply from the BluePippin instrument (described above), but without the size selection functionality! This means this power supply can be hooked up to a standard gel box to run a pulsed field slab gel, which enables subsequent staining and analysis to  accurately visualize the distribution of large DNA fragments up to 1,000 kb in length. These two instruments are therefore complementary: the Pippin Pulse will allow you to analyze your DNA and decide where to set size selection cutoffs, and then the BluePippin actually does the size selection.
We recommend using specialize agarose powders and DNA ladders when running these PFGE slab gels. Please contact us for more info.
_____________________________________________________________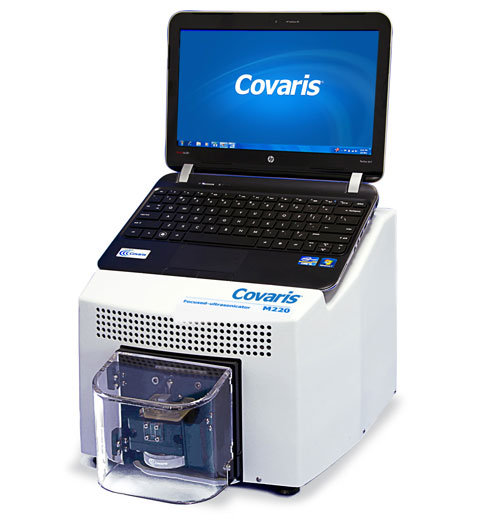 The Covaris M220 Focused-Ultrasonicator is designed for Next-Gen Sequencing applications requiring fragment sizes between 150bp and 5kb. Covaris AFA (Adaptive Focused Acoustics) transmits acoustic energy at ultrasonic frequencies (>400KHz) and very short wavelengths (~3mm) and is uniquely able to focus the energy into your sample. The process is isothermal, non contact, and quiet, and the instrument is very easy to operate.
The M220 can accomodate sample volumes of 15 µL, 50 µL, or 130 µL in specialized tubes that we stock in house, and can process up to 5 µg of DNA per tube.
CLICK HERE to schedule a reservation on Covaris! (Note, you will need to register for an iLab account.)
_____________________________________________________________
The Geno/Grinder is an automated high-throughput plant & animal tissue homogenizer and cell lyser.  It is specifically designed for rapid cell disruption, cell lysis, and tissue homogenization through bead beating, enabling fast and efficient extraction of nucleic acids, proteins and other molecules of interest.
The Geno/Grinder operates at speeds of up to 1750 strokes/minute and up to 20 minutes in duration. It is equipped with an adjustable clamp that accommodates a full range of sample vials:
Up to 48 x 1.5 mL microtubes
Up to 16 x 50 mL conical tubes
Up to 6 x deep-well titer plates
_____________________________________________________________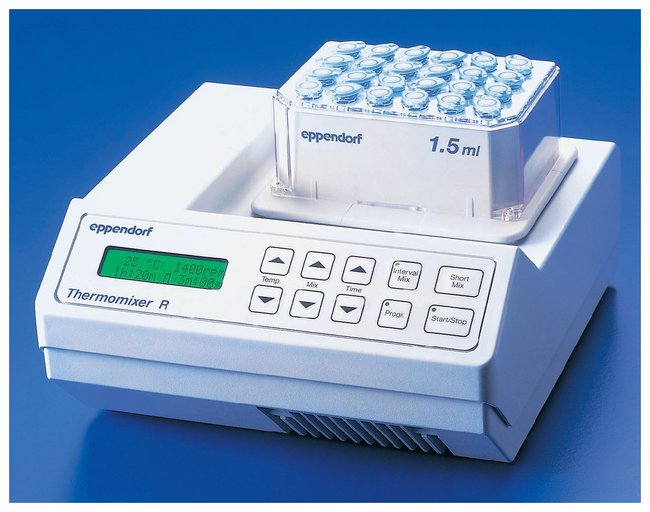 The Thermomixer R can heat, shake, and cool up to 24 samples in 1.5 mL tubes - all in one unit! 
Adjustable temperature from 13°C below ambient to 99°C
Variable mixing speed from 300 to 1400rpm
Programmable for intermittent mixing with timed rest phases -- ideal for enzyme reactions and DNA hybridizations
Short-mix function supports quick vortex applications
_____________________________________________________________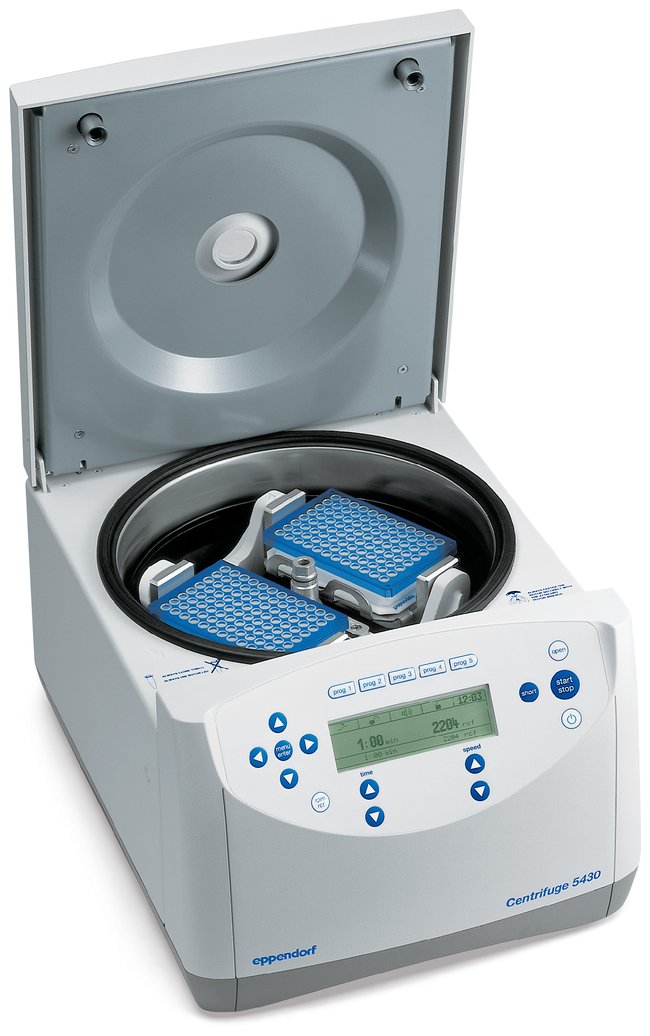 This plate spinner has a small footprint and is fitted with a rotor that allows you to quickly spin down your 96-well plates (with up to 1 mL capacity).
It has a max speed of 17,500 rpm / 30,000 rcf, and only takes 14 seconds to fully accelerate!
_____________________________________________________________
Eppendorf 5417R: Refrigerated microcentrifuge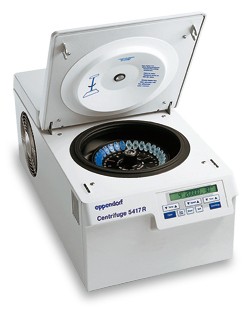 This high-performance microcentrifuge provides temperature control from –9 to 40°C (15.8 to 104°F). "Fast Cool" function lowers rotor bowl temperature from ambient to 4°C (39.2°F) in less than 20 minutes. Refrigerated units use CFC-free refrigerant.
This centrifuge spins up to 25,000 rcf and offers up to 30-place capacity for high throughput processing of 0.5 mL or 1.5 mL microtubes.
_____________________________________________________________
For those times when your thumb joint gets sore from roll-sealing all those adhesive films on PCR plates (or when you simply want to avoid adhesive contamination in your samples) .... Try the PX1 Plate Sealer! It heats up and is ready to seal in less than 3 minutes, provides consistent and uniform sealing across an entire microplate, and minimizes sample evaporation. We stock both peelable and pierceable adhesive-free foils in the lab, but do ask that you bring your own foils if you're going to be sealing a large quantity of plates. 
____________________________________________________________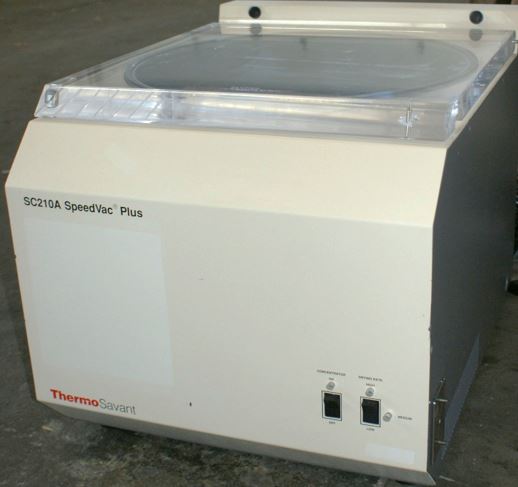 This SpeedVac Concentrator is used for sample concentration and drying using a combination of centrifugal force, heat and vacuum by connecting to a cold trap and vacuum source. By simply switching out the rotor, it can be used to spin either 1.5 mL microtubes or 96-well plates.