_________________________________________________________
__________________________________________________________
NEW POLICY ON DATA RETENTION
We have had an increasing number of requests for the retrieval of old sequencing data from our archive. While we are always happy to help whenever we can, a couple of issues have arisen surrounding this. CLICK HERE to review our new policy on data retention & retrieval.
__________________________________________________________
Do you like to use paramagnetic beads for DNA size selection?
We sure do!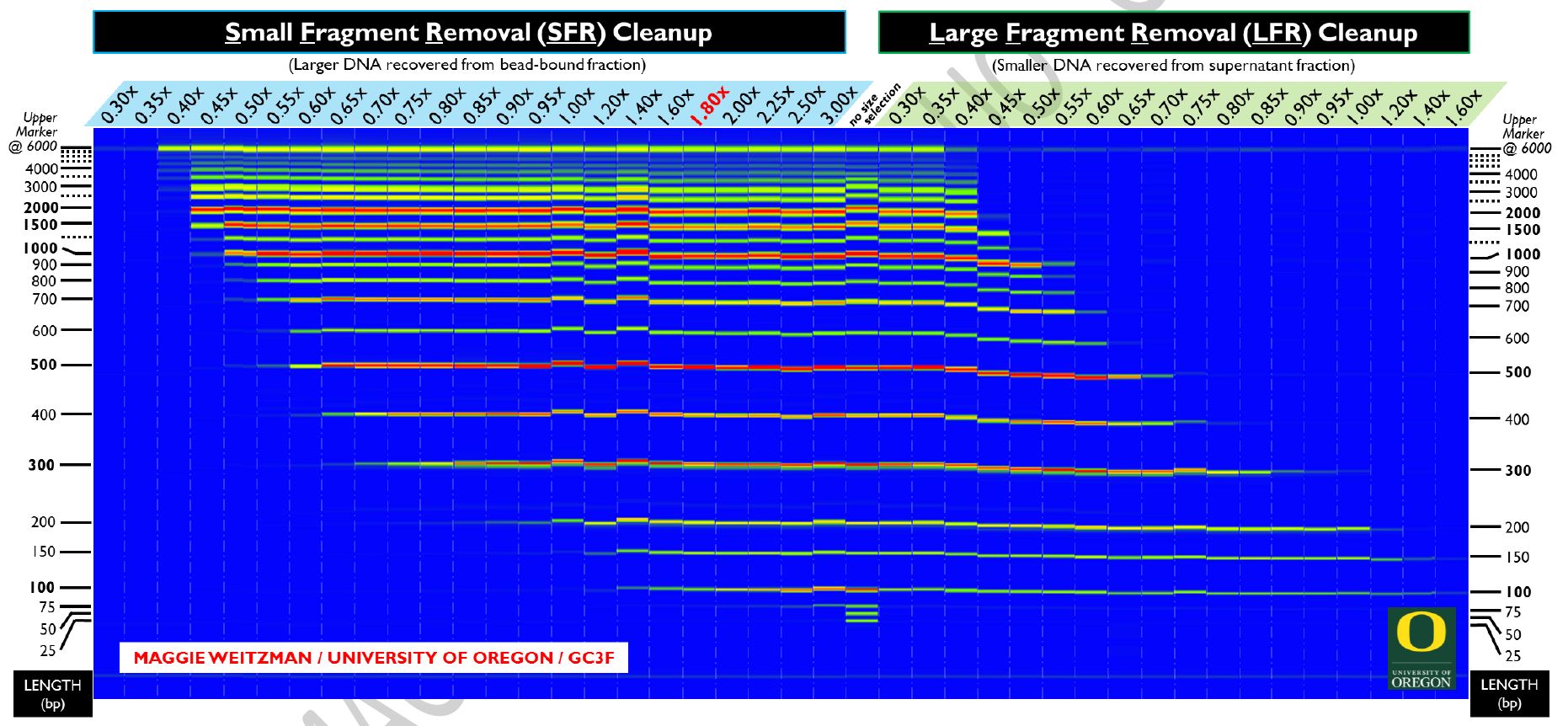 Omega Bio-Tek has recently released a new formulation of their Mag-Bind® Beads called TotalPure NGS, which can be used to purify both DNA and RNA.  UO researchers can purchase aliquots of these beads from the GC3F for $7 per mL.
We have run a full series of tests to characterize their DNA size selection properties.
Click here to download the full report!
____________________________________________________________________________________________
The GC3F offers full-service sample preps for many popular sequencing library types, including stranded mRNA-Seq, whole genome shotgun, 16S amplicon, 10X whole genome linked reads, single cell mRNA-Seq, PacBio, and many others -- including custom projects by request! Please contact us to inquire.
All library prep services include numerous quality control (QC) steps, including but not limited to:
Initial quantifcation and fragment analysis of your input samples
Barcoding of multiple libraries using uniquely dual indexed adapters
Size selection/dilution/concentration
qPCR quantification and fragment analysis of each barcoded sub-library
Final multiplexing based on qPCR results
To submit a request for Sample Prep service, please register for an iLab account and then click "Request Services" from the top menu bar in iLab. It is important that your request has been submitted in iLab before you provide the physical samples to us!
CLICK HERE to submit a Sample Prep request!
__________________________________________________________
Please deliver samples 288 Klamath Hall if you are an on-campus user. For off campus users, please mail samples frozen on dry ice in a well-protected vessel to the following address:
University of Oregon/GC3F
1318 Franklin Blvd
Room 273 Onyx Bridge
Eugene, OR 97403
NOTE: Please ensure that your package will arrive for delivery at UO only on Mon-Thurs. Due to campus restrictions during the COVID-19 pandemic, UO cannot accept deliveries on Fri-Sun.
__________________________________________________________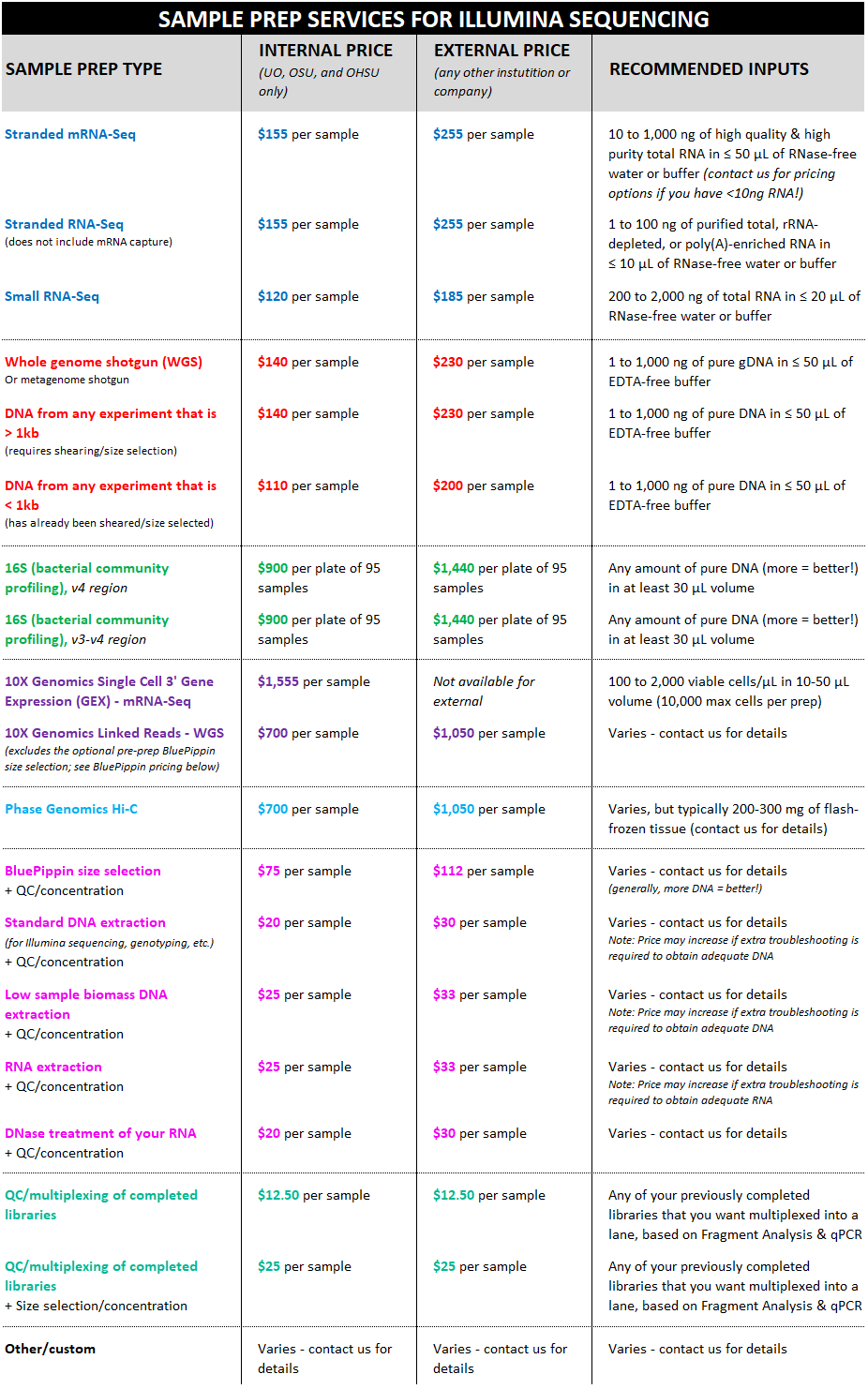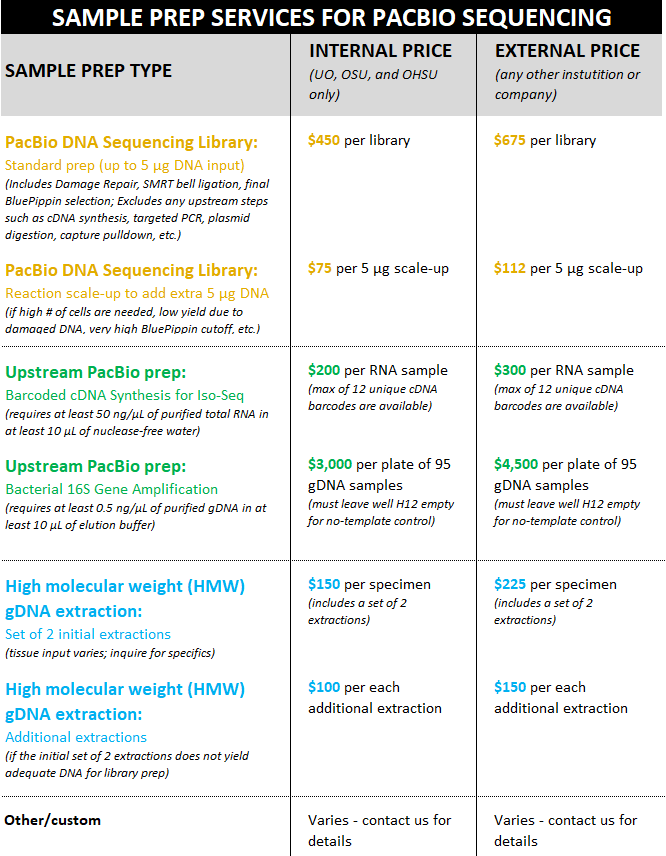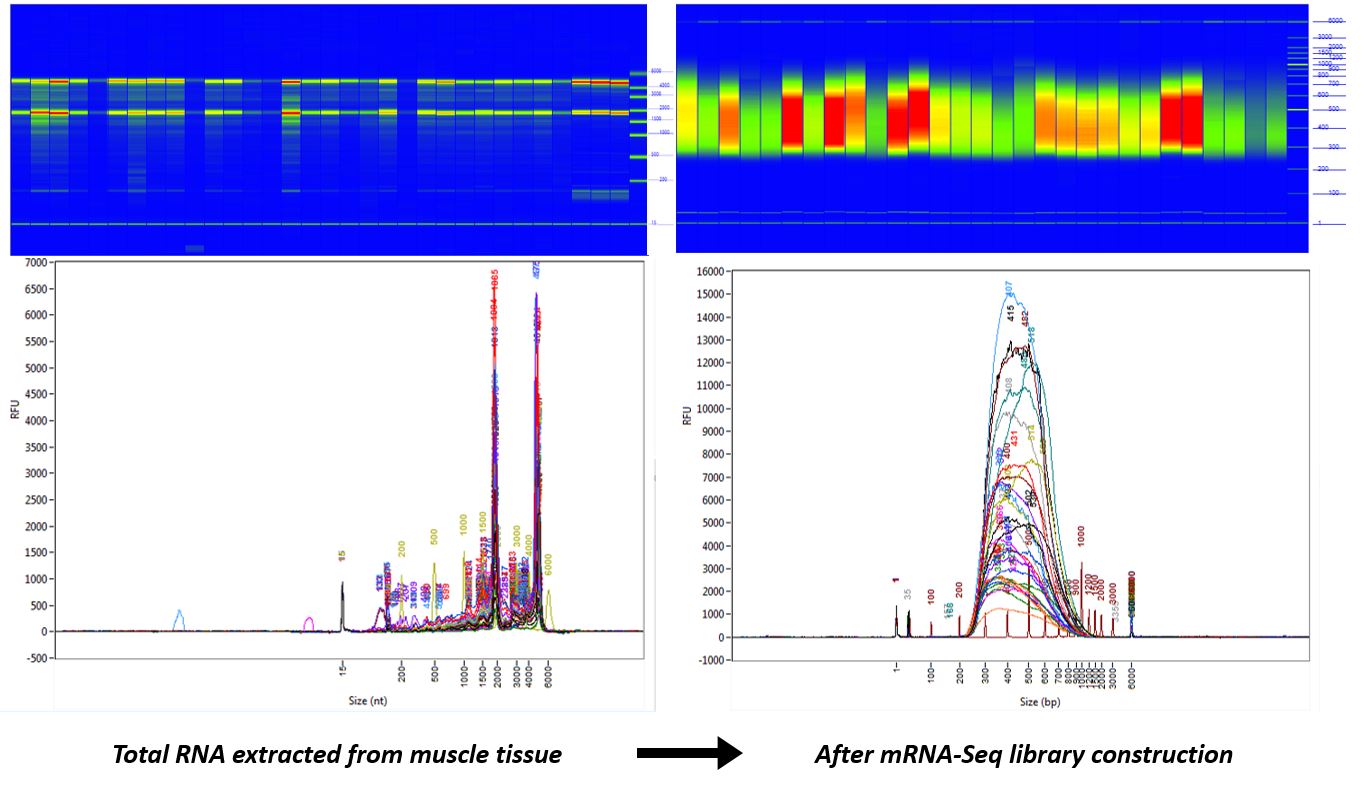 We do our best to give an accurate estimate of turnaround time when service requests are submitted. These estimates are not guarantees and occasionally change due to unforeseen circumstances (instrument maintenance/repairs, staff sick leave, etc.). Please let us know if you have a hard deadline on project completion when you submit your service request and we will take measures to ensure that we either meet that deadline or inform you ASAP if circumstances beyond our control will cause us to miss it. Thanks!